WASFAA 2022 Conference
The WASFAA Conference is back for 2022!


Mark your calendars for May 2nd through 4th. Polish up your business lunch manners, and try to find some clothes that aren't athleisure wear because we'll be LIVE AND IN-PERSON at the Park MGM in fabulous Las Vegas, NV.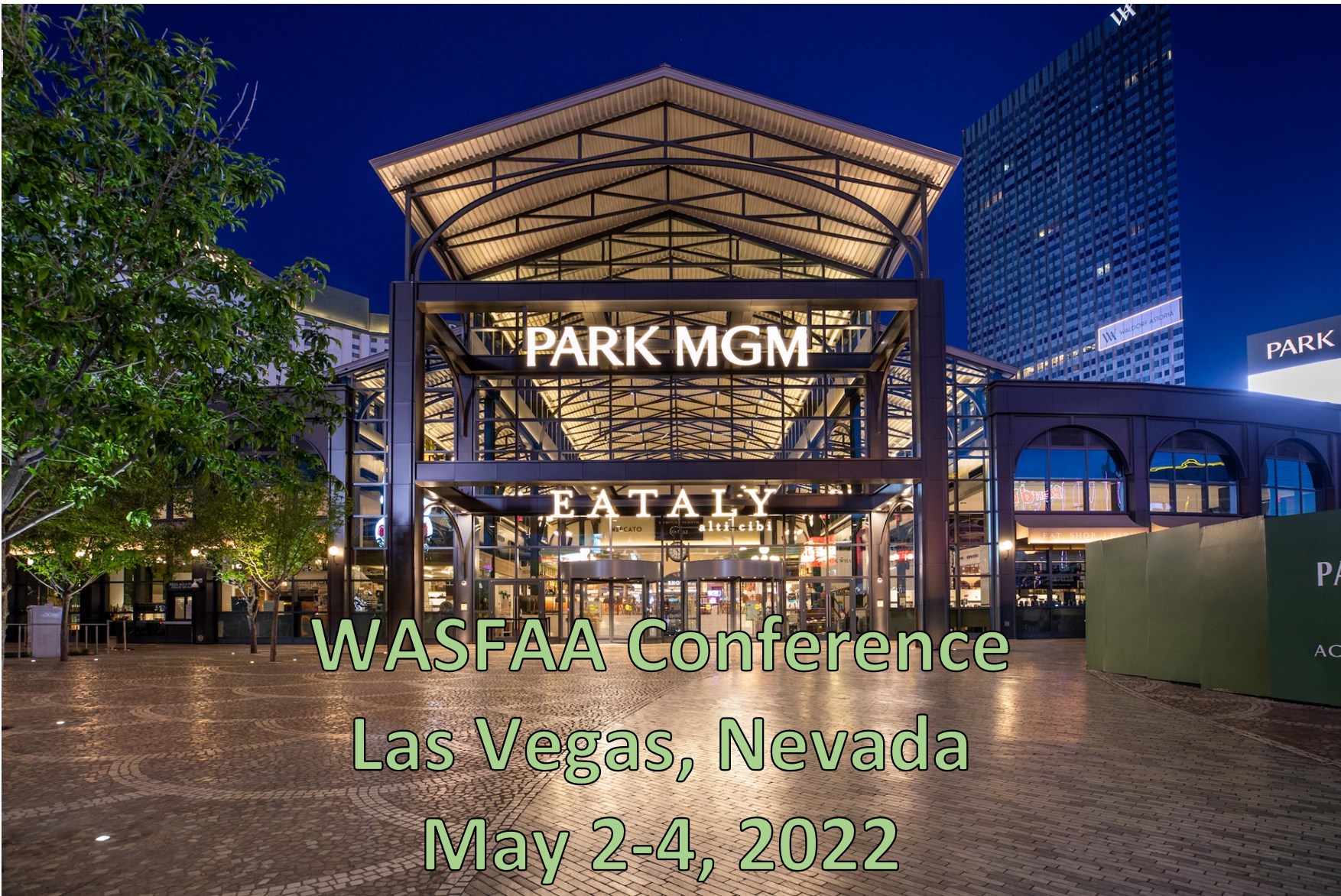 REGISTER NOW
Registration is now open for the 2022 WASFAA Conference on May 2-4, 2022 at the beautiful Park MGM Hotel in Las Vegas, Nevada. You can enjoy three days of learning and networking with colleagues.

Early Bird Registration 03/10/22-04/08/22:
Member $275
Non-Member $325
Late Registration 04/09/22-05/01/22:
All registrations received after 05/14/22 will be wailisted and filled as slots become available.
Member $325
Non-Member $375

AGENDA
Our 2022 Conference Agenda is available for review for those of you that may need an agenda for booking and travel purposes. We will be using the WHOVA app to allow participants to navigate the conference as well as the agenda. Please check back often for updates to sessions being offered.
We will be staying at The Park MGM and NoMad Las Vegas
The room block has Closed - but with rooms available for the "Market Rate" are still available.


Information for Corporate Partners
We will be adhering to COVID protocols as outlined by the state and county. Please be sure to specify on the registration form, your comfort level with social interaction during the conference. We want to be respectful of everyone's personal space and preferences during the conference, while maintaining safety for all of our members, guests and sponsors.


Get our official conference app,

Get the most out of the app and have a more productive experience!
1
NAVIGATE the event agenda and logistics, even without Wi-Fi or data. Access useful information like ridesharing and local attractions through the Community Board
2
NETWORK effectively. Plan whom to meet by exploring attendee profiles and sending out messages
3
PARTICIPATE in event activities through session likes, comments, ratings, live polling, tweeting, and more
For feature details, visit
Whova